Last six hikers rescued off Mount Rinjani
Comments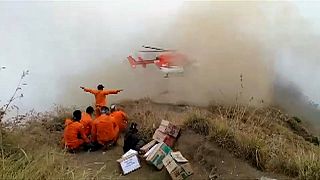 The final six hikers who were stuck on Mount Rinjani on Indonesia's Lombok Island were finally brought down to safety.
That's according to the National Disaster Management Agency after a powerful earthquake measuring 6.4 magnitude hit the popular tourist destination two days ago.
It's following a massive combined rescue effort involving almost 200 Indonesian police, military and medical personnel
Around 16 people were killed as well as a 30-year-old Malaysian woman who died on the mountain.
Lombok is east of Jakarta and Bali, and is one of the lesser known islands of Indonesia and earthquakes are common in the area.
More than 600 were stranded on the side of the volcano but successfully climbed down the day after the quake struck, once landslides and debris were cleared from the two main paths by rescuers.