14 killed in Indonesian earthquake
Comments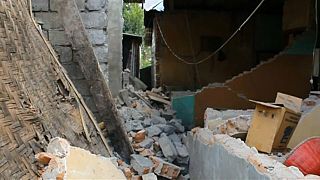 14 people have been killed following an earthquake on the Indonesian island of Lombok.
The 6.4 magnitude quake struck the popular tourist destination early in the morning when many of the victims were still sleeping.
It had an exceptionally large impact because the epicenter was just 7 kilometres below ground level. The worst hit area was Sembalun on the north of the island.
"It happened all of a sudden around 6 in the morning," said this survivor. "Everything collapsed." "When my house collapsed, my kid was inside but thanks to god he is safe." No-one here died but a few were injured. "
Across the island 162 people were reported injured and thousands of homes damaged. Climbers have been evacuated from mountainous areas as a precaution after there were landslides in the aftermath of the quake. .