Government criticised as Greece mourns fire victims
Comments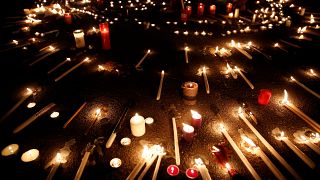 The Greek fire service says it has been able to identify 70 of those who died in last week's devastating wildfires.
At least 92 people perished in the blazes, but it's feared this figure could rise. Fourteen people are still missing.
Last night, a week after the fires broke out, hundreds of people attended a vigil in front of the Greek parliament. The government has announced an action plan, but people are asking how a disaster of this scale was possible and are demanding change.
On Monday (July 30), Prime Minister Alexis Tsipras made an unannounced visit to Mati, one of the worst-hit areas.
There, he spoke to engineers and rescue workers, but didn't make a public statement.
Instead, he tweeted - in Greek - about his quote "indescribable grief" and "immense respect" for those who tackled the blazes and for the people now involved in the post-fire recovery and restoration work.
But he's been criticised for his government's response to the disaster and the visit to Mati prompted further anger from opposition politicians.
In the video above, Euronews correspondent Fay Doulgkeri delves deeper into this.
Good Morning Europe airs every weekday from 7am CET.