Eyewitness videos capture horror of Greek wildfires
Comments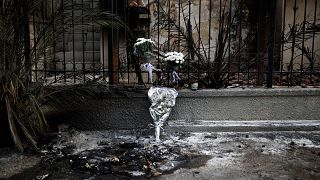 The Greek government is facing criticism as the extent of the damage from the worst wildfires in recent memory becomes clear. Fire officials say the number of dead stands at 91, while 25 people are still missing one week after flames swept through the Athens region.
Our correspondent Bryan Carter reports from Mati, where the land is scorched and many buildings are reduced to ashes.
There, he joined the Hellenic Red Cross on their search and rescue operations. It was, as he described it, "a gruelling mission: finding missing people in the surrounding areas devastated by the flames."
Angelo Chastios, the Head of the Red Cross Samaritans of Athens told Euronews he'd never seen anything of this scale in his time at the organisation.
"As I have talked with other colleagues, with volunteers, they are only a few that have seen this kind of disaster for the last 20 years."
As Greece grapples with grief, Mayor of Athens Giorgos Kaminis said:
"I personally I see those kinds of crisis also as opportunities to change the way that we construct, the way that we build our communities, the way we train people, the way that we are ready to confront such crisis must change. And I think this time it will change."
Change is what Greeks are asking for, to prevent against tragedies of this scale happening again.
Meanwhile, videos taken in Mati as wildfires swept the tourist town last week have surfaced. One man filmed the inferno surrounding his home as he tried to recover and rescue his pet cats. Elsewhere, dozens of people had fled into the sea to escape the intensity of the heat, with some of clutching bags and suitcases of their belongings which they managed to take with them.