Polar bear killed after attack on Arctic cruise ship guard
Comments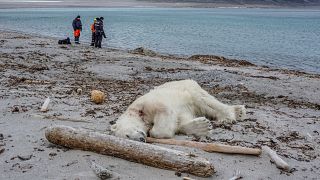 A polar bear has been shot dead after it attacked a cruise ship guard in the North Pole.
The guard suffered non-life-threatening head injuries and is said to be in a stable condition.
He was leading tourists off the ship after it landed on the most northern island of the Svalbard archipelago, a region between mainland Norway and the North Pole.
The German Hapag Lloyd Cruises company, which operates the MS Bremen, told The Associated Press that the polar bear was shot dead "in an act of self-defense" by a second guard.
The injured man was airlifted to a hospital in the town of Longyearbyen, on Spitsbergen island.
Critics were quick to take to social media and blamed the attack on human intrusion on polar bear territories.
The Associated Press said that 18 cruise ships are set to dock this week in Svalbard's largest settlement.