Tour de France briefly halted by protestors
Comments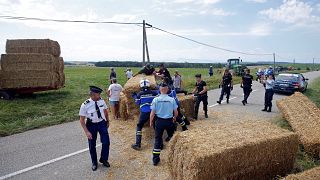 The Tour de France was interrupted by protestors who dropped bales of straw onto the road.
Police used tear gas to disperse the demonstrators but the race had to be halted briefly after riders complained that the chemicals had got into their eyes.
The incident happened with 187km to go on the Tour's 16th stage between Carcassonne and Bagneres-de-Luchon.
The protesters were farmers who are complaining about reductions to their subsidies.
The police also had to clear away sheep following the incident, although it's not clear how the animals came to be in the road.