Poland joins EU countries battling Sweden's wildfires
Comments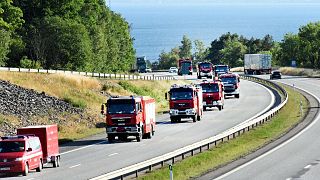 Poland has sent a convoy of fire trucks to Sweden this weekend, joining several other EU states helping the country to battle wildfires caused by hot weather and low levels of rainfall.
Poland's Ministry of Interior shared photos of the fire trucks on Twitter, saying its firefighters had arrived in Sweden and were "on their way to help their Swedish colleagues fight forest fires."
Video footage shared by the ministry showed the convoy on the road in Sweden.
Poland is just the latest European country to offer its help to battle the blazes. Italy, France, Germany, Norway and Lithuania are among other countries supplying firefighting aircraft or helicopters.
National Swedish Radio reported that some 40 fires were burning on Sunday.
Data from the European Commission's Joint Research Centre showed that there had been 53 wildfires this year, as of Thursday.
Normally by this time of year, there would have been three such fires, its data showed.
A video uploaded to Twitter on Sunday showed the damage wreaked by the fires.
Many parts of Sweden have seen their driest weather in the May to mid-July period since records began in the 19th century, the Swedish Meteorological and Hydrological Institute (SMHI) said.