Residents flee as wildfires rage west of Athens
Comments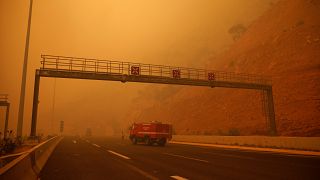 -
A fast-moving wildfire raged through a mountainous area west of Athens on Monday (July 23), forcing residents to flee their homes and sending plumes of smoke and ash over the Greek capital.
Dozens of firefighters and trucks rushed to control the blaze in the popular seaside settlement of Kineta, some 50 kilometres outside Athens. Water-dropping planes and helicopters were also deployed.
But strong winds frequently changing direction were hampering efforts, authorities said.
A 20-kilometre section of two highways was closed to traffic as thick smoke reduced visibility, creating dangerous driving conditions.
Forest fires are common in Greece during hot summers and a dry winter has created tinderbox conditions. This year temperatures of up to 40 degrees Celsius have been predicted.
More than 60 people died in 2007 when fires raged across lage swaths of southern Greece.