US tourist boat capsizes in storm, killing 17
Comments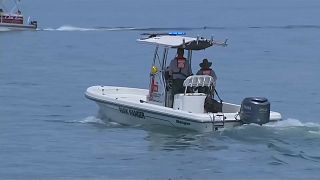 Amateur video has captured the accident in which 17 people, including nine members of one family, died after a "duck boat" packed with tourists capsized and sank in high winds.
The tragedy is one of the deadliest US tourist incidents in years.
Officials say divers have recovered the last bodies from the wreckage of the boat but gave no information on the condition of the victims taken to hospital.
"No more missing. The age range from the 17 was from one-year-old to up to a 70 year old," Stone County Sheriff, Doug Rader, told the press on Friday. 
Tia Coleman said she and her nephew were the only survivors from 11 members of their family who went on the "Ride The Ducks" tour.
"I lost all my children, I lost my husband, I lost my mother-in-law and my father-in-law, I lost my uncle, I lost my sister-in-law — she was my sister — and I lost my nephew, I'm OK, but this is really hard," Coleman told Indianapolis television channel Fox 59 from her hospital bed in Branson. 
She said the captain of the boat told them when they were in the lake not to put their life jackets on, an action she believed had cost lives.
Missouri Governor Mike Parson said seven of the 14 survivors had been injured, one seriously.
The World War Two-style amphibious vehicle was filled with 31 passengers including children when a microburst storm hit Table Rock Lake outside Branson, Missouri.
"Duck boats" have been involved in a string of deadly incidents that have killed more than three dozen people across the United States over the past two decades, by drowning and in crashes on land.