Cheese to become 'luxuries' in UK after Brexit, report warns
Comments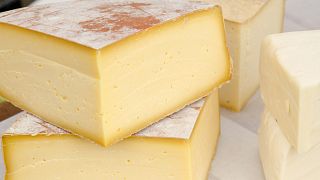 Butter, yoghurts and cheese could become "luxuries" in the UK after Brexit, a new report has found.
Tariffs, additional delays at the border and increased checks could leave "British consumers facing a dairy dilemma," the London School of Economics warned in a report published Tuesday.
According to the report — commissioned by dairy company Arla Foods — a hard Brexit in which the UK leaves the EU's customs union and single market would have a "disastrous impact on the country's dairy industry and its consumers."
A "softer" departure from the 28-country bloc would still pose "a dilemma" as the UK has the second largest dairy trade deficit in the world, at up to 16% with 98% of dairy imports originating from the EU.
"That heavy reliance on EU imports means that any problems at the border post-Brexit and shortages of labour in key areas are likely to have a major, and predominantly negative, impact on the domestic market in the form of shortages of products and significantly higher prices," Ash Amirahmadi, UK managing director at Arla Foods UK, said in a statement.
According to the report, Brexit could lead to the following extra costs:
An additional seven minute waiting period at UK ports for customs inspection will cost an additional 111 pounds (€125) per container;
Rules of origin certificates could add €48;
Veterinary controls cost some €56 per consignment;
Labour cost: the UK's Customs Declaration Service, designed to handle only 150 million declarations per year, will have to handle 250 million post-Brexit while the workload for vets at the border is expected to increase by 372%.
Furthermore, imports would be subjected to tariffs. In a 2016 report the UK's Agriculture and Horticulture Development Board highlighted that tariffs for cheese from the EU range from 19% for Parmesan and Cantal to 68% for unripened or uncured cheese with a fat content above 40%.
"There's no margin to play with here in the value chain," Amirahmadi said in the LSE report.
"Any disruption means that if we don't get the practicalities of Brexit right we will face a choice between shortages, extra costs that will inevitably have to be passed on to the consumer or undermining the world-class standards we have worked so hard to achieve."
But the report also pointed out that "Brexit might bring opportunities to expand the UK industry in the long term".
"But in the short and medium term we cannot just switch milk production on an off. Increasing the UK's milk pool and building infrastructure for us to be self-sufficient in dairy will take years," it said.
Arla Foods is a global dairy company and co-operative owned by 11,200 dairy farmers, including some 2,400 British farmers. The UK arm is the largest dairy company in the country with a turnover of €2.9 billion.