Theresa May: 'Donald Trump told me to sue the EU over Brexit'
Comments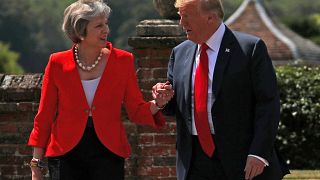 Copyright

REUTERS/Hannah McKay
The British Prime Minister has revealed that Donald Trump advised her to "sue the European Union" instead of negotiating with the bloc over her Brexit strategy.
Theresa May told the BBC Trump made the comments on Friday, during his visit to the UK.
"He told me I should sue the EU," May said, "sue the EU. Not go into negotiations - sue them."
On Friday, Trump said at a joint press conference with May, that he gave her "a suggestion" about how to handle the Brexit talks, without revealing what it was.
"I think she found it maybe too brutal, and that's OK. I gave her a suggestion, not advice. I could fully understand why she thought it was a little bit tough" Trump said.
May's position was further undermined by Trump who said in an interview published in Rupert Murdoch's Sun newspaper on Friday that her proposals would probably "kill" any chance of a post-Brexit trade deal with the US.
Trump later backtracked on his comments and later promised a "great" US trade deal.
But the US President's remarks come at a perilous moment for May. She endured a torrid week which began with the resignations of the Brexit Secretary David Davis and the Foreign Minister Boris Johnson.
The ministers resigned over May's blueprint for a deal with the EU post-Brexit. The White Paper document draws on the idea of a common rulebook, which would involve a free trade area for goods with the EU while having more flexibility on service industries.
Another difficult week awaits May, who is rumoured to face calls of a confidence vote over the leadership of her Conservative party.
Shortly after May's interview on the BBC, Jacob Rees-Mogg, who chairs the hard-Brexit European Research Group (ERG), told the broadcaster that it was necessary for the Prime Minister to change policy.
Rees-Mogg said ERG members would mount a show of strength on Monday evening, by voting for hard-Brexit amendments on the trade bill.
But May said: "let's just keep our eyes on the prize here. The prize is leaving the EU in a way that's in our national interests," adding that she would see off any leadership challenge as she's "in this for the long term."