'I demand respect' says Juncker after stumbling incident
Comments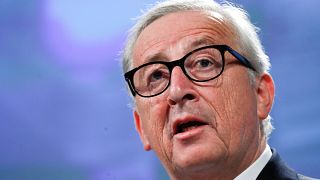 Copyright

REUTERS/Yves Herman
European Commission President Jean-Claude Juncker asked for some respect on Wednesday after reporters asked him if he was drunk during a gala dinner at the NATO summit last week, where he is seen stumbling in a viral video.
Juncker denied being drunk and said his stumble was due to his acute leg pain condition known as sciatica.
A viral video showed the European Commission president walking awkwardly and losing his balance ahead of the event as leading politicians, including the prime minister of the Netherlands, helped him to stay upright.
"I have health problems that only concern myself," said Juncker at a press conference, adding that he was "impressed" by how many people are interested in his medical condition.
"There are more important things to concentrate on that my state of health," he added.
"I demand respect," said the European Commission president, referring to politicians such as Austrian right-wing Harald Vilimsky who called for Juncker's resignation after the incident.
Juncker's stumble had previously been questioned by reporters. A European Commission spokesman had called the query "more than tasteless" and unfair.
"I think it's more than tasteless that some press try to make an insulting headline by exploiting President Juncker's pain," Margaritis Schinas told a daily news briefing.