Speculation about Juncker's health 'tasteless'
Comments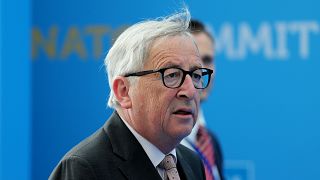 A European Commission spokesman has denounced a reporter's question over whether European Commission president Jean-Claude Juncker was drunk on Wednesday following his public stumble.
In a press briefing on Friday, the spokesperson called the query "more than tasteless" and unfair.
"I think it's more than tasteless that some press try to make an insulting headline by exploiting President Juncker's pain," Margaritis Schinas told a daily news briefing,
Juncker has previously admitted to suffering from a condition of acute leg pain known as sciatica.
Last month he told the Irish parliament: "I have some difficulties to walk. I am not drunk, I have sciatica; I would prefer to be drunk."
Juncker was helped out by Dutch prime minister Mark Rutte when he struggled with his balance and Rutte also indicated that he believed health issues, not alcohol was the cause.
Schinas insisted that Juncker has no problems doing his job, observing: "His programme is full. His programme has not changed at all.".
Update: On July 18 Juncker addressed the incident, saying: "I have health problems that only concern myself," adding that he was "impressed" by how many people are interested in his medical condition.
"There are more important things to concentrate on that my state of health," he added.
"I demand respect," said the European Commission president, referring to politicians such as Austrian right-wing Harald Vilimsky who called for Juncker's resignation after the incident.