Hot lava smashes through roof of tourist boat 'leaving 23 injured'
Comments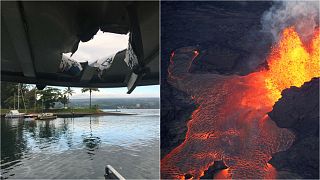 Hot lava burst from the ocean and crashed through the roof of a sightseeing boat near Hawaii on Monday, injuring 23 people.
It happened as the vessel was taking tourists to where the Kilauea volcano was spewing lava into the ocean off Big Island.
A tourist, Will Bryan, who was filming when the incident happened, said: "We are fine. Shaken up and tons of cuts and burns but we are fine."
One woman suffered a broken leg and civil defence spokeswoman, Kelly Wooten, put the total number of injuries at 23.
It's the worst casualty incident since the Kilauea volcano began erupting in March and started flowing into the sea a couple of months ago.
The tour boat was operated by Lava Ocean Tours, according to Hawaii Department of Land and Natural Resources, which charges around $220 (€187) per person for watching the lava flow into the sea.