Boys rescued from Thai cave to be discharged from hospital next week
Comments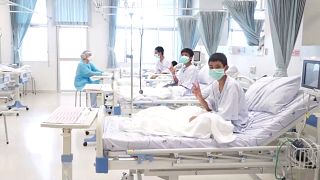 The twelve Thai boys and their football coach who were rescued from a flooded cave in Thailand will be discharged from the hospital next week, said the Thai health minister Piyasakol Sakolsatayadorn.
The "Wild Boars" youth football team and their coach were rescued from the Tham Luang cave last Tuesday, ending a perilous mission that involved rescue teams from various countries.
The boys and the coach have been recovering in a hospital since then.
The football team entered the cave on June 23, hoping to explore the cavern complex after football practice that day but got trapped inside after a rainy season downpour flooded the passageways.
Two British divers found the boys and their coach on July 2.
A three-day rescue mission organised by Thai navy SEALs and international divers then began to bring all 13 back to safety.
Piyasakol said that some of the boys had pneumonia when they were brought out of the cave but were recovering.
He added all will be discharged on Thursday.