Watch again: Trump and May tout 'special relationship' in joint press conference
Comments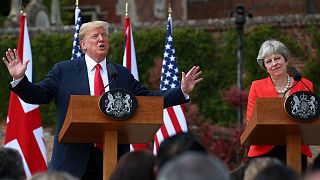 US President Donald Trump insisted on Friday that the US-UK relationship is the "highest level of special" and said a trade deal is still possible between the two countries after Brexit.
Trump made the comments in a joint press conference with British Prime Minister Theresa May at her country residence Chequers in Buckinghamshire.
"Whatever you do is OK with us, just make sure we can trade together, that's all that matters. The United States looks forward to finalising a great bilateral trade agreement with the United Kingdom. This is an incredible opportunity for our two countries and we will seize it fully," Trump said.
In her remarks, May said she and Trump had agreed to "pursue an ambitious US-UK free trade agreement."
"The Chequers agreement reached last week provides the platform for Donald and me to pursue an ambitious deal that works for both countries right across our economies," she added.
The positive comments from the two leaders came just hours after an interview with Trump was published in which he criticised May's Brexit strategy, saying it had probably killed off hope of a US-British trade deal.
"If they do a deal like that, we would be dealing with the European Union instead of dealing with the UK, so it will probably kill the deal," Trump told the UK's Sun newspaper.
In the interview, Trump also heaped praise on Boris Johnson, who resigned as foreign secretary this week along with Brexit Secretary David Davis in protest at May's strategy, saying he would be a "great prime minister".
At the press conference, Trump said May was doing a "terrific job".
"Unfortunately, there was a story that was done which was generally fine but it didn't put in what I said about the prime minister and I said a tremendous thing... It's called fake news," he said.
Later on Friday, Trump and his wife Melania arrived at Windsor Castle for tea with Queen Elizabeth II.
The President's visit to the UK has been met with large protests, with a giant "Trump Baby" balloon taking flight in London to oppose the trip.
Re-watch the press conference in full here: