In pictures: the brief life of the Trump baby balloon
Comments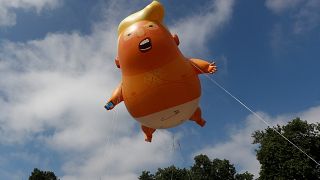 Protesters hoisted a balloon depicting Donald Trump as a baby above the streets of London.
The US president said he was avoiding London to keep out of the way of the demonstrations, and has also repeatedly attacked the UK capital's mayor.
"I guess when they put out blimps to make me feel unwelcome, no reason for me to go to London," he told the Sun newspaper. "I used to love London as a city. I haven't been there in a long time. But when they make you feel unwelcome, why would I stay there?"
The stunt's organisers donned red boiler suits bearing the words "TRUMP BABYSITTER."
The six-metre high, helium-filled balloon was inflated near to Britain's parliament and remained aloft for around two hours.
9:42am London time
9:58am
10:00am
10:13am
10:39am
10:47am
11:25am
12:07pm
12:48pm
12:49pm