Trump's claims on popularity and London crime: What is true?
Comments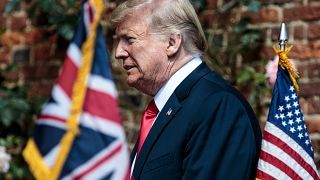 Copyright

Jack Taylor/Pool via REUTERS

-
US President Donald Trump ensured his arrival in the UK on Thursday was noticed thanks to a bombshell interview in which he boasted about his popularity and heavily criticised local politicians.
Euronews take a closer look at some of the claims Trump made in his interview with The Sun.
'Millions and millions' of migrants
The US president deplored that Europe is "losing its culture" because it has allowed "millions and millions of people" to come in.
"Allowing the immigration to take place in Europe is a shame"
"I think it changed the fabric of Europe, and unless you act very quickly, it's never going to be what it was and I don't mean that in a positive way," Trump said.
Trump is not completely erroneous in his claims that "millions and millions" of people have arrived in Europe, but without a time frame, it's open to interpretation.
According to the December 2017 UN report on International Migration, 22 million people arrived in Europe between 2000 and 2017, second only to Asia and ahead of North America (17 million).
If, however, the American president was talking more precisely about the migrant crisis which started in 2015, than the numbers are much lower. 
The European Commission said that more than one million refugees and migrants arrived in the EU in 2015 and 2016 "fleeing war and terror in Syria and other countries."
Eurostat estimates that overall two million non-EU citizens migrated to the 28-country bloc in 2016 and that foreign citizens made up 7.5% of people living in the EU as of January 1, 2017.
London mayor 'bad on crime'
Trump launched yet another attack on London Mayor Sadiq Khan, saying the British capital is in the midst of a crimewave, which he linked to immigration.
"I look at cities in Europe, and I can be specific if you'd like. You have a mayor who has done a terrible job in London. He has done a terrible job.
"I think he has done a bad job on crime, if you look, all of the horrible things going on there, with all the crime that is being brought in," Trump said.
According to the latest Metropolitan Police statistics, overall crime in London rose by 6.4% in the 12 months ending in March 2018, compared to the previous year.
Knife crime rose by 21.2% while gun offences decreased by 4.6% in the British capital, the Met Police stats show. Across England and Wales, offences involving knives shot up by 22%, those involving firearms by 11%.
The numbers of homicides (which included deaths in terror attacks) were up by 44% in London.
Scotland Yard blamed a "significant reduction in resources" for the increases. Since 2010-2011, the government has cut its grant to the Met Police by 700 million pounds (€789 million), approximately 40% in real terms, according to the Mayor of London's office. This has led to the loss of a third of police staff posts.
Khan announced in February that the city would invest a further 110 million pounds (€124 million) in police services in 2019.
Brits 'like me a lot'
In the interview, Trump criticised the protests in London against his visit. He said Brits like him a lot and that millions support his policies.
But a poll conducted by YouGov for ITV Tonight and released on Thursday seems to contradict that.
The poll found that 77% of Brits hold an unfavourable view of the US president, just two percentage points below Vladimir Putin.
Two thirds of Brits think Trump has so far been a "terrible" (44%) or "bad" president. Only 13% rated him as either "good" or "great".
Pragmatism prevailed however, with a majority saying the working visit should go ahead, although only 35% of respondents thought the Queen should receive the First Couple.
More popular than Abraham Lincoln
The US President doubled down on his claim that he was more popular than former president Abraham Lincoln.
"You know, a poll just came out that I am the most popular person in the history of the Republican Party," he told The Sun.
The claim is difficult to verify as approval ratings did not exist during Lincoln's presidency (1861-1865).
Earlier this week he tweeted that a "new poll says Trump, at over 90%, is the most popular Republican in the history of the Party. Wow!"
But a June 2018 Gallup poll put his approval rating at 45%, noting that the figure was "below the historical average of 53% for all presidents in Gallup polling since 1945" and that he has so far "ranked well below" the other presidents at similar points in their presidencies.
Furthermore, the Pew Research Center found in a poll released on Wednesday that when asked which president has done the best job in their lifetimes, more Americans (44%) name Barack Obama than any other president. Bill Clinton came in second followed by Ronald Reagan with 33% and 32% respectively.
Only 19% said Trump has done the best or second best job of any president in their lifetimes.