Fuel price increases trigger violent protests in Haiti
Comments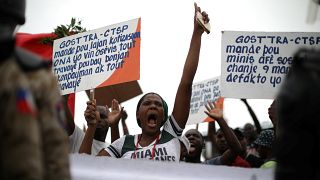 Haiti's government has suspended fuel price rises after angry protesters took to the streets.
Demonstrators used burning tyres and barricades to block major roads across the capital Port- au-Prince.
Protesters also targeted a Nissan car dealership and attacked a Best Western hotel in one of the wealthiest neighbourhoods of the capital, forcing guests to shelter inside.
No injuries or deaths were reported during the latest incidents, but at least three people were killed in unrest on Friday.
Prime Minister Jack Guy Lafontant said the country needed to raise petrol prices after the International Monetary Fund reduced fuel subsidies as part of an assistance package.
Haiti is the poorest country in the Western Hemisphere. About 80 per cent of residents earn less than 2 dollars a day.
The demonstrations began after the Commerce Ministry and Economic Ministry issued a joint statement announcing an increase of 38 per cent to 51 per cent for petrol, diesel and kerosene.
The price increase would have raised the cost of diesel to 4 dollars a litre, while petrol would go up to 5 dollars a litre.