At least nine dead in Europe-wide listeria scare
Comments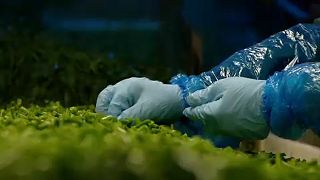 Supermarkets across Europe are recalling frozen vegetables after an outbreak of listeria at a factory in Hungary.
At least nine people have died and almost 50 have been taken ill.
The affected products were shipped to Austria, Denmark, Sweden, Finland and the UK.
The best way to prevent listeriosis is to cook food thoroughly, and never eat anything past its sell-by date.
"If you cook these vegetables really well, all the bacteria perish,'' Food expert Livia Domolki told Euronews. ''Frozen they survive, but the heat makes them perish."
Listeria symptoms include fever, muscle aches, nausea and diarrhoea.
Those most in danger include pregnant women, children, the elderly and those with weakened immune systems.