3-year-old birthday girl dies after Idaho stabbing spree
Comments
By Tim Stelloh with NBC News U.S. News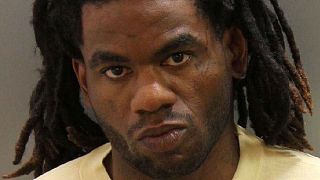 A 3-year-old girl died Monday after a weekend stabbing spree at her birthday party in Boise, Idaho, authorities said.
Five other children and three adults — all of them immigrant families from Iraq, Syria and Ethiopia, according to NBC affiliate KTVB — were also injured in the attack.
The unidentified 3-year-old had been flown to Utah for treatment, Boise police said in a statement.
The other child victims were 4, 6, 8 and 12 years old, KTVB reported. Police described many of the remaining injuries as serious or critical.
Following the child's death, the suspect, Timmy Kinner, 30, was charged Monday with first-degree murder and multiple counts of aggravated battery and felony injury to a child, the station reported.
Kinner allegedly targeted the apartment complex where the birthday party was held because a woman he was staying with there kicked him out of her home, police chief Bill Bones said.
During a court hearing on Monday, prosecutors said that Kinner had ties to Tennessee but was "essentially homeless," KTVB reported.
Police records showed an extensive arrest history from Shelby County, Tennessee, mostly for non-violent crimes. In separate cases he was charged with sexual battery, aggravated robbery, indecent exposure, assault and unlawful possession of firearms, though it wasn't clear if he was convicted.
During the hearing, when a judge asked Kinner if he understood the charges against him, he responded: "No sir," KTVB reported. "I don't understand none of it, sir."
When Kinner said that he wanted to represent himself, the judge appointed a public defender, saying that he couldn't "explain the charges any more clearly than I just did."