Doctor stands trial over stolen baby case in Madrid
Comments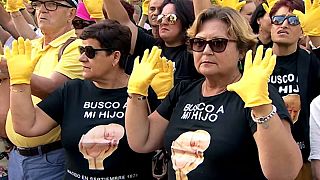 An elderly gynaecologist, accused of abducting a baby in 1969 and giving her to another woman, went on trial Tuesday in Madrid.
Activists protested outside the court demanding the re-opening of other cases dating back to the 1939-1975 rule of dictator Francisco Franco.
Doctor Eduardo Vela is accused of falsifying documents, abduction of a child under seven years of age and staging a birth while he worked at the San Ramon hospital in Madrid.
He has denied any wrong-doing.
The prosecution asked the 85-year-old: "Do you remember, what was the protocol to follow when a woman was admitted to the clinic to give birth?"
Vela replied: "I did not know anything apart from medical matters. I didn't know."
Bringing the charge is Ines Madrigal, a 49-year-old woman who accuses Vela of forging her 1969 birth certificate to show her adopted mother as her biological parent.
Campaigners say officials took babies from mothers they deemed "unsuitable" - often communists or leftists - and gave them to families connected to the regime.
_This article has been amended to correct the date of Franco's rule. _