Stolen babies trial resumes in Madrid
Comments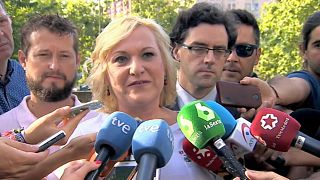 Spain's first trial linked to the Franco-era stolen babies scandal has resumed in Madrid.
Thousands of babies were taken from their mothers starting in the 1950s and given to other
women. It was an effort to purge Spain of Marxist influence.
Former gynecologist Eduardo Vela is accused of having taken Inés Madrigal from her biological mother in 1969 and given her to another woman who was falsely certified as her birth mother.
Among the prosecution witnesses were two French journalists who used a hidden camera to record Vela as he appeared to confess to giving Madrigal away as a "gift"
Madrigal was also in court
"Today is an important day," she told reporters outside the courthouse. "We hope that the trial will close soon, that the statements of the French journalists will give us the strength we need to see if justice is really done in this country and if at least one person involved in baby trafficking can be convicted."
In a dark and often overlooked chapter of General Francisco Franco's dictatorship, the newborns of some left-wing opponents or of unmarried or poor couples were removed from their mothers and adopted.
Activists say there are hundreds of similar cases dating back to the Franco era that have failed to make it to court because of a lack of evidence or because the time limit to file charges has passed.
Prosecutors are seeking an 11-year jail sentence for Vela for falsifying official documents, illegal adoption, unlawful detention and certifying a non-existent birth.