Emmanuel Macron and Italian PM Giuseppe Conte patch up differences
Comments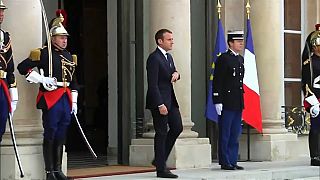 Emmanuel Macron will welcome the Italian Prime Minister Giuseppe Conte today at the Elysée Palace.
The meeting takes place despite tensions between the two countries over the issue of migrants in recent days.
It follows the closing of Itay's ports to a humanitarian ship that came to the rescue of more than 600 migrants,
The French President denounced "the cynicism and irresponsibility of the Italian government"
The Italian executive then threatened to cancel this meeting, under pressure from the populist movement.
But after a hastily arranged call between the two leaders, Prime Minister Conte and the French head of state agreed on the need for dialogue ahead of the European summit scheduled for the end of June, at which the migration crisis will be one of the central issues.
The Italian government issued a statement saying that President Macron stressed that his intention was not to offend Italy or the Italian people.