Macron and Conte to discuss migration issues
Comments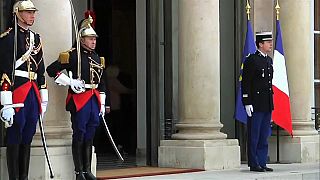 The quarrel and tensions between the French president and his Italian counterpart seem to be diffused.
Macron told Conte he had never wanted to offend Italy or the Italian people over the migration issue.
The two leaders confirm they'll be having lunch today to discuss "new initiatives" on migration.
Italian Prime Minister, Giuseppe Conte says, "We agreed on the necessity to cooperate closely together. Italy, France, but also involving all European countries, because the question of migration, of immigration, cannot be delayed and the solutions cannot be handled only by Italy."
It's after Italy refused to allow the Aquarius ship to dock with 629 migrants on board.
It did however, send boats to escort and resupply the vessel to sail to Spain where it should arrive on Sunday.
Last night France announced that it would welcome some of the migrants once they've met the criteria for asylum.