Migrant crisis: Italian politicians hail 'a new beginning'
Comments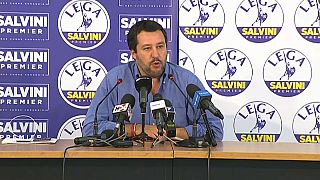 Italian politicians have welcomed Spain's offer to take in 629 rescued migrants, saying it marks a turning point in Europe's response to the migrant crisis.
Far-right League leader Matteo Salvini campaigned on a pledge to crack down on the flow of migrants into the country. He is now the country's Interior Minister.
''It's recognition that Italy can't continue to endure this huge burden alone,'' Salvini said at a news conference. ''Clearly the European Union can't go on this way and so, starting from today, it's a new day, a new beginning.''
Italy's new Prime Minister Giuseppe Conte said it was a step in the right direction.
"We had asked Europe to take responsibility for the migrant emergency, not to leave us alone as has happened in recent years. This gesture is a step in the right direction, so I can only thank the Spanish authorities for having accepted our request," Conte said.