Italy's mayors blast decision to turn away migrant boat
Comments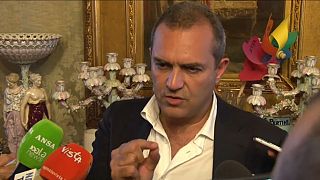 As Spain prepares to welcome a stranded boat of 629 migrants to its shores, several mayors around Italy criticise their country's decision to turn it away.
Luigi De Magistris, Mayor of Naples says; "Whoever puts human lives at risk is not just behaving shamefully and is ethically reprehensible, but is committing a crime. In my opinion, it is a crime against humanity and will be answered for before international courts.
So far, there is no sign this is the 'government of change' and the 'government that made history' The only element of history they have made is that they are going to kill women and children in the Mediterranean. This is the tale they are telling at this time."
Leoluca Orlando, Mayor of Palermo, said; "As a European citizen and as mayor of Palermo, I will lodge with the regional court a complaint relating to the criminal responsibilities of the European states and of the Italian government.
I believe that all European countries and the whole of Europe are in danger of being put on trial, a kind of second Nuremberg trial. I do not know if it will be in an actual court of justice, but it will be written in the history books and, unlike our grandparents, we will not be able to tell our grandchildren, 'we did not know'."
Michele de Pascale, Mayor of Ravenna, said; "Perhaps no one has warned Salvini that he is no longer just the leader of the Lega party but he is also the Minister of the Interior of one of the biggest economies in the world. That said, I agree with everyone that we need more support from Europe. If Salvini maintains that argument, he would have the support of all mayors and all political forces."