Sikh guardsman first to wear turban at Trooping the Colour
Comments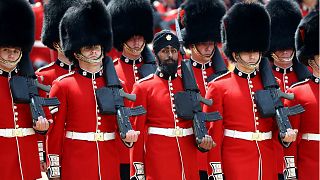 Guardsman Charanpreet Singh Lall was the first soldier ever to wear a turban during the Trooping the Colour parade in London on Saturday.
The 22-year-old Sikh from Leicester is a member of the Coldstream Guards and wore a black turban with a ceremonial cap star to match the bearskin hats worn by the other soldiers.
Lall was one of around 1,000 servicemen and women who took part in the event to mark the Queen's official birthday.
He told the BBC he expected it would encourage those from different religions and backgrounds to join the Army.
"I hope that people watching, that they will just acknowledge it and that they will look at it as a new change in history," he said.
Born in India, Gdsm Lall moved to the UK with his family when he was a baby.
The Trooping the Colour is a ceremony performed by regiments of the British and Commonwealth armies to mark the official birthday of the British sovereign.
Prince Harry and his new wife Meghan Markle, now known as the Duke and Duchess of Sussex, were in attendance along with the Duke and Duchess of Cambridge.
Senior royals including the Queen, Prince Charles and the Duchess of Cornwall also took part in the event.
Prince Philip, the Queen's husband, did not attend, having retired from public life last year.