Sweden mobilises its entire volunteer army for first time since 1975
Comments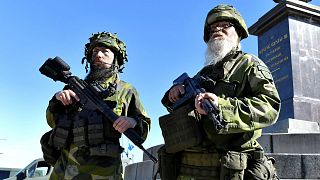 Sweden has called up all of its army volunteers for the first time in more than four decades in a bid to bolster its military strength.
The country, which has a reputation for neutrality, last went to war more than two centuries ago.
But security has moved up the agenda in the Baltic region ever since Russia's annexation of Crimea.
Sweden's Armed Forces made the surprise call to its 22,000-strong home guard this week to test their readiness.
Volunteers were asked to stand for service on Wednesday, June 6, which is also Sweden's national day.
They were asked to carry out patrol, protection and guarding duties, the army said in a statement.
General Micael Bydén, the supreme commander of Sweden's Armed Forces, said it was first time the whole home guard had been tested like this since 1975.
"We are committed to strengthening Sweden's defense and increasing our operational capabilities," said Gen Bydén. "This is a way to do it."
It comes after the Swedish government dispatched brochures to its 4.8 million households on how to prepare for an attack.
The pamphlet, entitled If Crisis or War Comes, is meant to get residents ready for a range of scenarios, including military conflict.
Sweden, which last went to war in 1814 with Norway, has not sent such instructions to its citizens since the days of the Cold War.