G7 Summit: American-French relations appear to be back on track
Comments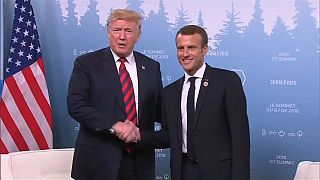 After a war of words the day before, American-French relations appear to be back on track at the G7 summit on Friday.
Following bilateral talks, Donald Trump and Emmanuel Macron say they're making progress on trade.
Emmanuel Macron says, "We had a very direct and open discussion and I thought a willingness on all the sides to find an agreement and have a win-win approach for our people, our workers, our middle classes."
Trump also predicts a positive outcome, emphasizing, his "good relationship" with "my friend" Macron, despite what he called "a little test" on trade.
Donald Trump says, "The United States has had a very big trade deficit for many years with the European Union, and we are working it out. Emmanuel has been very helpful in that regard. And something is going to happen. I think it is going to be very positive. We also had a very positive meeting a little while ago on NAFTA -- so this is turning out to be an interesting day."
Trump has provoked outrage and unsettled markets by imposing tariffs on steel and aluminium imports to the United States.
He's also threatened to tear up the NAFTA agreement with Canada and Mexico.
Despite warming relations, observers predict the group will lack the consensus to issue a final summit communique.
Instead, Canada's expected to issue a chair's summary of the meeting.