At least 18 people have been killed after an explosion in Baghdad's Sadr City
Comments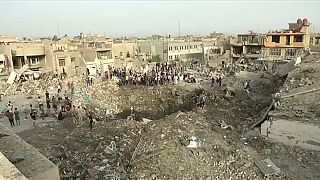 At least 18 people have been killed and over 90 wounded after an explosion in Baghdad's Sadr City.
An investigation is now underway after an ammunition cache was detonated.
That's according to the interior ministry.
It's unclear what actually happened.
One statement says the weapons were stored in a house, whilst another says they were stored in a mosque and the blast happened when they were being transferred into a car parked nearby.
Sadr City is a strong hold of nationalist cleric Moqtada al-Sadr.
He won a parliamentary election on May 12 but Parliament ordered a national recount of the votes on Wednesday.