G7 finance ministers speak out against US trade tariffs
Comments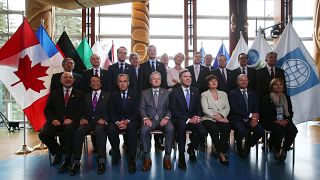 As G7 finance ministers met in Whistler on Saturday, Canada's representative spoke out against US trade tariffs and said he hoped the Trump administration would reconsider them.
Bill Morneau said: "We believe it's important that every country take their own considered actions on how they want to respond to the tariffs imposed by the US.
"Our goal is to convince the US to move back from these tariffs. Which we don't think will help either of our economies and which are actually going to hurt citizens in US and citizens in Canada."
He was presiding over the meeting which has been dominated by fears of a trade war.
On Friday, Canada and the European Union attacked the imposition of tariffs on steel and aluminum imports, setting the tone for the leaders meeting next week in Quebec.