Russian journalist 'returns from the dead' after staged execution
Comments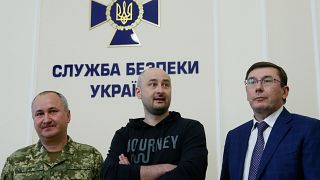 Ukraine's secret service has revealed it faked the assassination of a high-profile critic of Vladimir Putin.
Russian journalist Arkady Babchenko was gunned down outside his home in Kyiv on Tuesday, local authorities said at the time. Tributes flowed in, Ukraine accused the Kremlin of organising the killing, and the Kremlin retorted by demanding more protection for its citizens in the country.
Then, the next day, Babchenko appeared at a press conference.
He revealed that his death had been faked in order to capture those behind the attempted killing, apologising to his wife and thanking those who had mourned him.
Arkady was a prominent critic of Vladimir Putin and had fled to Ukraine following threats in his homeland.
A war veteran, he had fallen victim to a campaign of persecution by mobs and the media after expressing indifference to the deaths of members of Russian service personnel in the face of the killing by the military of so many people in conflicts abroad.