German Chancellor and Turkish FM attend Solingen memorial ceremony
Comments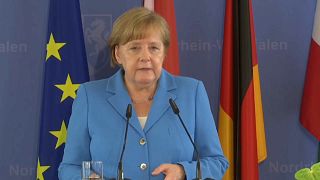 -
Turkish Foreign Minister Mevlut Cavusoglu joined Germany's Chancellor Angelar Merkel at a ceremony in Dusseldorf to commemorate the 25th anniversary of the Solingen racist attack. Also present was Mevlude Genc a survivor of the attack that killed five members of her family in what is still considered one of the worst attacks on the Turkish community in modern Germany's history.
It [the ceremony and the presence of Merkel] is an important step in the fight against racism and we as the Turkish nation are prepared to do everything we can to help in the fight against racism and xenophobia," said Cavusoglu.
Merkel warned that the type of act committed against the Turkish community was not a thing of the past and that similar sentiments should be combatted today.
"Right wing extremism is not a thing of the past, as people in our country are being demonised and attacked because they are asylum seekers or refugees, or because they look like them because of their skin colour and it doesn't matter how long they have lived here. Such atrocities are a shame for our country," she said.
In 1993 a group of neo-nazis set fire to Genc's home killing two of her daughters, two of her grandaughters and a niece, the four men found guilty have since been released having served their sentences. Since the attack Genc has publicly spoken a number of times to in support of tolerance and reconciliation.