Italy in crisis as President vetoes key government nomination
Comments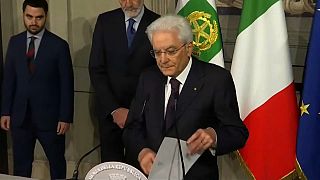 Italy could be heading back to the polls after President Sergio Mattarella vetoed the proposed choice for finance minister, saying his Eurosceptic views threatened Italian interests.
The anti-establishment alliance tasked with forming a coalition angrily abandoned their plans to form a government.
Mattarella is expected to ask a former International Monetary Fund official Carlo Cottarelli to head a caretaker government, but early elections appear to be inevitable.
It would be the first time in post-war Italian history that such a re-vote was needed.
Prime Minister designate Giuseppe Conte visited the President on Sunday night to formally end his bid to form a government.
The head of the far-right League party responded with fury.
"I ask myself, are we a democracy?'' Matteo Salvini said. ''In Italy, is it the Italians who decide or is it the Germans or the French who decide? It's absolutely incredible from my point of view. I'm sorry I wasted so much time, they could have told us earlier."
The leader of the Five Star Movement Luigi Di Maio went further, calling for President Mattarella to be impeached.
The European Union's Foreign Policy Chief played down concerns of a political crisis in Italy.
"I have full trust, as I believe all Italians have in the Italian institutions,'' Federica Mogherini, a former Italian Foreign Minister, told reporters as she arrived for a meeting of EU foreign ministers in Brussels on Monday.
''I notice today that trust, the level of trust, that Italians have in the European Union has gone up in the last days. It's now (up) to 41 per cent. I believe this is something we should all reflect on."
Italy's anti-establishment League and Five-Star movement have been heavily criticial of the European Union as they worked to form a governing coalition.