Family of British mum jailed in Iran plea for release in time for daughter's birthday
Comments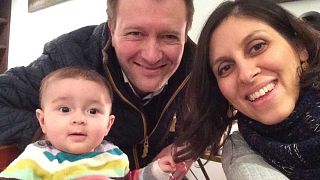 Copyright

Change.org/Richard Ratcliffe
Gabriella Ratcliffe wants one thing for her fourth birthday — her mother back.
The daughter of Nazanin Zaghari-Ratcliffe is writing a letter to the British and Iranian foreign ministers asking them to find a solution to return the charity worker home in time for her party.
"She knows that she's different and other children have got their mummies and daddies," Richard Ratcliffe, Nazanin's husband told Euronews. "We look forward to all having us back together soon."
Mother and daughter have been in Iran for the past two years after being convicted of spying offences.
However, hopes that the family will be reunited in the coming months received a blow when Nazanin was taken from prison back to court this weekend and told she was likely to be convicted of a new charge of spreading propaganda.
"She was told she was facing new charges and she should expect to be convicted," Nazanin's husband Richard told Euronews.
He said the elements of the new charges appear to be the same as those which originally consigned his wife to prison more than two years ago.
"It feels like she's being tried twice for the same crime with a different charge" he added.
In addition, Nazanin has been ordered to find a new lawyer, after her judge said he wasn't satisfied with her current representation. The current situation feels a long way from the hopes the Ratcliffe family had at the end of last year, when diplomatic developments appeared to be clearing a path for her release.
"There's clearly lots of tension in the wider environment," Richard Ratcliffe said in an interview, referring to the decision by US President Donald Trump's decision to reinstate sanctions on Tehran. "There's clearly issues in the UK/Iranian relationship that have long been there and it feels like she's being used as a bargaining chip."