Surprise reaction to Iraq's election results
Comments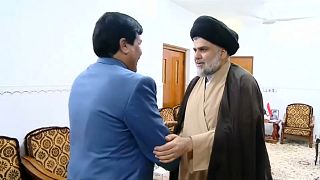 Cleric Moqtada al-Sadr's bloc wins the Iraq election.
He's a long-time adversary of the U.S. who also opposes Iranian influence in Iraq.
So how do Iraqi's feel about him winning?
Jasim Al-Dujaili is an engineer and says, " Moqtada al-Sadr should actually meet the promises he declared, to dismiss the corruption. Al-Sadr should bring Iraq back to the Arab homeland and keep away from sectarianism and useless debates which politicians were using during their electoral campaigns. "
Sadr himself cannot become prime minister because he didn't run in the election, but it puts him
in a position to have a strong say in negotiations.
Local resident Salar Akozi says, "The election results in Kurdistan region disappointed us due to the falsifications that took place in Kurdistan by a certain party."
His coalition electoral list captured 54 parliamentary seats.