Stormtroopers provide security for Solo: A Star Wars Story
Comments
By Reuters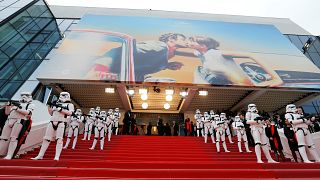 Security was even tighter than usual at the Cannes Film Festival on Tuesday as a phalanx of stormtroopers ensured the cast of "Solo: A Star Wars Story" made it safely up the red carpet.
Director Ron Howard was joined by his film's stars for the special screening. It's already premiered in Los Angeles but goes on global release on May 23rd.
The film is the backstory of Hans Solo, the loveable rogue played by Harrison Ford in the original "Star Wars" films.
Movie critics welcomed a new Han Solo into the "Star Wars" galaxy, giving generally positive marks to Walt Disney's origin story for one of the sci-fi franchise's most popular characters.
"Solo: A Star Wars Story" received a 71 percent positive score on film website Rotten Tomatoes on Tuesday, the day the first reviews were released. The movie starts rolling out in international theaters on May 23.
The film endured a rocky path to the screen. Original co-directors Phil Lord and Chris Miller were fired midway through production, and Disney asked Oscar-winning "A Beautiful Mind" director Ron Howard to come in to oversee extensive reshoots.
Critics who liked the movie said Howard had succeeded in making a fun film that should satisfy the franchise's fervent fans.