Moqtada al-Sadr set for surprise comeback in Iraqi elections
Comments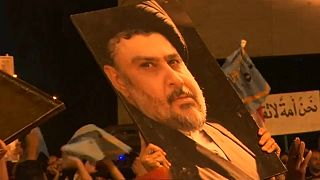 Supporters of Moqtada al-Sadr have been celebrating in Iraq after partial results showed the powerful nationalist leading in the country's parliamentary election.
Shi'ite militia leader Hadi al-Amiri's bloc, which is backed by Tehran, is in second place.
Prime Minister Haider al-Abadi appears to be running third. Security and commission sources had earlier said he was leading the election.
A Sadr victory would mark a surprise comeback by the cleric, who has a strong following among the young, poor and dispossessed, but he's recently been sidelined by influential Iranian-backed figures.
Whoever wins the most seats still must negotiate a coalition government, which must be formed within 90 days of the results being formally announced.