US slaps Iran with sanctions over 'malign activity'
Comments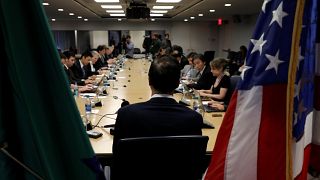 The United States has slapped fresh sanctions on Iran for what it calls "malign activity".
The penalties are imposed on six people and three companies it says have ties to Iran's elite military force, the Revolutionary Guard Corps.
Treasury Secretary Steven Mnuchin said they were targeted at those who had funnelled millions of dollars to the group.
The Treasury department has accused Iran's central bank of helping The Republican Guard access U.S. dollars held in foreign banks to sidestep Western sanctions.
The crackdown comes as US Secretary of State Mike Pompeo pushes allies in Europe, Asia and the Middle East to pressure Iran to return to negotiations over its nuclear and missile programs.