High rise housing for hogs
Comments
By Reuters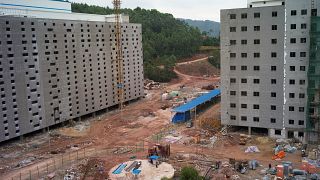 This is a city - for pigs. The multi-story apartment blocks on Yaji Mountain, southern China are reserved entirely for animals.
With two seven-storey breeding operations already running, and four more planned, Guangyi Yangxiang is literally taking industrial farming to a new level. One of the new buildings will have up to 13 floors.
The city will one day house 30,000 sows, giving birth to more than 800,000 piglets a year.
The move is part of an effort by China to modernise its farming methods to feed its burgeoning population and, in particular, their demand for meat and dairy.
"There are big advantages to a high-rise building," Xu Jiajing, manager of Yangxiang's mountain-top farm, told Reuters.
"It saves energy and resources. The land area is not that much but you can raise a lot of pigs."
The intensive nature of the farm does raise concerns about disease, despite precautions designed to prevent workers and even air travelling between floors. The site will also need a waste treatment plant to cope with the large quantities of manure.