Armenia opposition leader Pashinyan formally nominated PM candidate
Comments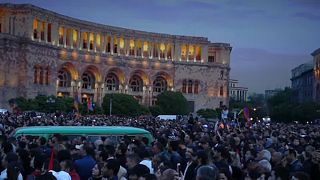 The Armenian opposition leader Nikol Pashinyan has been formally adopted by his Yelk alliance as candidate for prime minister, a day before parliament votes on a new head of government.
It comes the week after street protests brought down the long-standing leader Serzh Sargsyan. His ruling Republican Party has said it won't stand in the way of Pashinyan when parliament meets.
The favourite for prime minister among the large crowds of demonstrators announced his nomination to reporters, having secured the support of all opposition factions. On Sunday the 42-year-old told another gathering of tens of thousands of supporters that he was ready for the role.
"I want to look straight in the eyes of all of you, with all the confidence to declare that yes, I am ready to assume the office of the prime minister of the Republic of Armenia and to serve the people of Armenia," Pashinyan said.
He told Euronews that the Armenian people backed the opposition idea that "we need changes and we need new government".
Pashinyan has called on supporters to turn out again in Yerevan on Monday evening.
More than ten days of protests ultimately brought the resignation of Sargsyan last week, just days after the 63-year-old had been voted into the revamped post by parliament following a decade as president.
Demonstrators — who come from a wide variety of backgrounds and whose protests have often been spontaneous — blame the ex-leader and his government for failing to improve the economy, reduce poverty and tackle corruption in the former Soviet Republic.
The European Union has offered its support to Armenia in its efforts to build a "prosperous and democratic society", calling for restraint and responsibility on all sides.