Russia, Iran and Turkey commit to political solution in Syria
Comments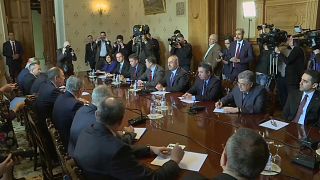 The foreign ministers of Russia, Iran and Turkey have been holding talks on Syria with all three countries agreeing that a political solution should be sought despite Western missile strikes.
Russian Foreign Minister Sergei Lavrov said there should be no preconditions to the Geneva peace talks which took place last year and his Iranian counterpart, Mohammad Javad Zarif, condemned the attacks by the US, Britain and France, saying that foreign intervention could inhibit the peace process.
Russia and Iran have been the principal backers of the Syrian President Bashar al-Assad's while Ankara has been at odds with Damascus over several issues.
The three countries have been working closely for two years to end the seven-year civil war which has cost the lives of hundreds of thousands of citizens.