Germany scraps major music awards over anti-Semitism outcry
Comments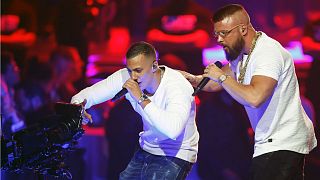 Copyright

Axel Schmidt/Pool via Reuters
Germany's music industry has scrapped the popular Echo music awards following outcry over its decision to give a prize to a rap duo whose lyrics were deemed anti-Semitic.
"The events surrounding this year's Echo, for which the board apologised, cannot be reversed, but we can ensure that such a mistake does not happen again in the future," the German music industry association (BVMI) said in a statement.
"The Echo brand is so badly damaged that a completely new beginning is necessary."
Echo sparked outrage after awarding German rappers Kollegah and Farid Bang the hip-hop/urban prize earlier this month for an album featuring lyrics in which they say their muscles are "more defined than Auschwitz prisoners."
The prize, which is based on sales, went to the duo after their album "Young, Brutal and Handsome 3" sold more than 200,000 copies.
Politicians, the press, and business leaders condemned the decision to award the album, while leading artists returned their awards in protest.
The rappers have apologised and their record label donated €100,000 to a campaign to combat anti-Semitism.
In its statement, the BVMI said Germany, as the third largest music market in the world, still needed music awards to recognise artists crossing genres and generations. As the organisation is now staring work on creating a new award for the pop genre, it says the jury will in future have a greater influence on who prizes are awarded to.