Israelis celebrate nation's 70th anniversary
Comments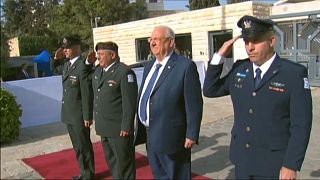 Israelis on Thursday (April 19) celebrated the nation's 70th anniversary, with military honour guards and a reception at the presidential residence.
President, Reuven Rivlin, and his Chief of Staff, Gadi Eizenkot, inspected an honour guard, with the Israeli army marching band playing in the background.
Prime Minster Benjamin Netanyahu and Defence Minister Avigdor Lieberman walked side by side with Rivlin as they marked the start of Thursday's Independence Day celebrations. During the ceremony Netanyahu spoke of the need for Israeli's to make sacrifices to ensure a secure future.
Helicopters flew over Jerusalem and other Israeli cities, and throughout the day, there were to be a number of military displays as many Israelis celebrated outdoors with their families.
While Israelis celebrate their independence, Palestinians will mark the "Nakba", or catastrophe, of the Jewish state's creation, when about 700,000 people, half the Palestinian population of Palestine, fled or were driven from their homes by Jewish fighters. Official Palestinian ceremonies and protests will take place on May 15th.