Hungarian nationalist Prime Minister Orban on track for third straight term
Comments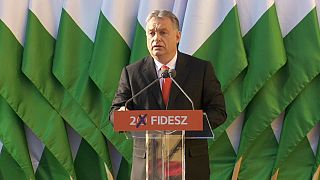 Hungary's nationalist prime minister is on track for a third straight term in power.
Viktor Orban says Hungary's future will be decided for decades at elections on Sunday.
After a campaign in which Orban has positioned himself as a saviour of Hungary's Christian culture against Muslim migration into Europe, all opinion polls put his Fidesz party well in the lead.
Orban said: "28 years later (after the fall off socialism) our country is at risk. Oppositional parties hired by foreign interest want to govern this country. Oppositional politicians, hired by foreign interests, want to get in to power to destroy our border fence, and apply Brussel's migrant quotes to turn Hungary into a migrant-country and serve their keepers, the financial power structures."
A third straight term for Orban could embolden Hungary's longest serving post-communist premier to solidify a Central European alliance against the European Union's migration policies, and against a deeper integration of the bloc which he opposes.
It would also give a lift to other right-wing nationalists in Central Europe, in Poland and in neighbouring Austria, and expose cracks in the 28-nation EU.
"Fidesz held their campaign closing event in the crowning city Székesfehérvár. Prime minister Viktor Orban said that the campaign is not over yet. His speach's key focus was on migration and George Soros. Orban urged his supporters to vote for him on this Sunday."