Spain stunned by video of tense scene between Queens Letizia and Sofia
Comments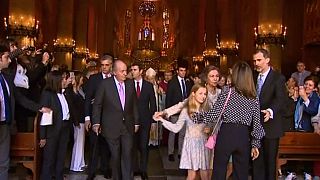 A video appearing to show a tense moment between Spain's Queen Letizia and her mother-in law during the royals' annual Easter break in Majorca has caused quite a stir on social media.
It happened on Sunday during the Easter Mass in the Cathedral of Palma de Mallorca, but the images sent by the agencies did not show this tense moment.
As Queen Sofia puts her arms around her granddaughters Leonor, 12, and Sofia, 10, ready to pose for pictures, there appears to be an awkward exchange between the former queen, 79, and the reigning Letizia, 45.
The current queen stands in front of Sofia and appears to try and take the arm of her eldest daughter, who then shoves both her mother and grandmother's hands aside.
The face of the King Felipe and his father Juan Carlos suggests tension at that moment. 
It was the first time in four years that the entire Spanish royal family appeared together in public, after a long period of time out of the spotlight.
Queen Sofia's niece, Marie Chantal of Greece, who is married to Crown Prince Pavlos — King Felipe's cousin — weighed in on Twitter, saying to @rabillodelojo, who published the video, if it were true:
To round it off, she posted a family photo, writing: "Happy grandparents, family is all that matters".
Other users of Twitter saw the humour of the situation and compared it with the series Game of Thrones or memes of Letizia sneaking in om famous photographs.
Some have put themselves in the shoes of King Felipe, who at one point in the video seems to mediate between the two women: