Barcelona: Spanish royals attend memorial service for Germanwings crash victims
Comments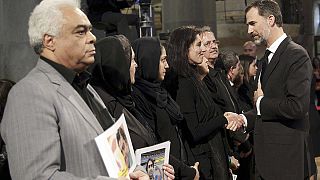 Spain's King Felipe VI and Prime Minister Mariano Rajoy have been remembering the victims of the Germanwings plane disaster.
Grieving relatives of passengers onboard the jet, which crashed in the French Alps last month, also attended the memorial service at the Sagrada Familia in Barcelona.
Many of the 144 passengers onboard the Barcelona to Dusseldorf flight were Spanish or German.
There were also six crew on the Germanwings plane, including co-pilot Andreas Lubitz.
He is said to have locked the captain out of the cockpit and put the Airbus jet on a descent path that sent it smashing into a mountain.
Around 1,000 people also gathered outside the Sagrada Familia for the memorial service.