Hungary election: What next for stormy relations with EU?
Comments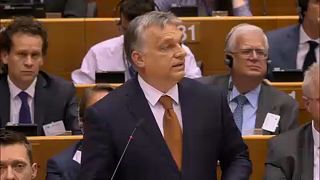 With Viktor Orban's Fidesz party tipped to win a third consecutive term in the upcoming election, what next for Hungary's relations with the EU?
Orban's had a rocky relationship with the bloc.
Brussels is taking Budapest to court over its NGO laws and for failing to host asylum seekers under an EU-wide quota scheme.
And, amid accusations of authoritarian leanings, the squeezing of the opposition and the free media, there's pressure to launch 'Article 7' - which could see Hungary stripped of its voting rights.
The European Anti-Fraud Office has also been probing EU funded projects in the country, run by a company once controlled by Orban's son-in-law.
Will Article 7 be launched?
European Parliament Liberal leader Guy Verhofstadt wants to see the Article 7 process launched against Hungary.
"In the case of Poland we did it already, there is a case that will be launched before the European Council based on Article 7. And finally I think that ultimately the same needs to be done on Hungary. Certainly when we see that there are also a number of corruption cases with European money involved. So we can not continue like that and closing our eyes for these corruption cases."
Two-speed Europe
One Hungarian Socialist MEP told Euronews that he fears Hungary will end up on the sidelines of the European Union.
"Viktor Orban's politics aims to get the EU to step aside. It is obvious that he does not dare to ask the voters about our EU membership, so that he leaves it in a two-speed Europe, where the majority of the member states overtake us," said István Ujhelyi.
Some from the Parliament's EPP (European People's Party) group, to which Orban's party belongs, are urging caution.
"Orban is more clever and less ideological than Kaczinsky therefore he avoided further steps in that question. But we have to be very cautious with such a country and keep an eye on it. That this does not go any further," commented Elmar Brok, a German Conservative MEP.
'We hope that he (Orban) can win'
Despite the internal debates, the man heading up the EPP says they're backing Orban in the election.
"Fidesz is doing a good job in Hungary, we have a good economic development there. And on the other hand, Viktor Orban was also contributing to stop the illegal migration through the Balkan route. So that was positively received," said Manfred Weber.
"And that's why we are looking forward to good luck and good success for Viktor Orban's party, for Fidesz in Hungary. We hope that he can win."
But Weber is keen to stress that open discussions are welcome.
"The European People's Party is the largest political family in the European Union, we are very powerful, we are very influential," he said.
"But we have a broad scale of ideas on the table. So its normal to have an internal discussion about some of the issues. We welcome these open discussions about the direction of the EPP family. And the rest is up to the Hungarian voters to decide in which direction their country should go."
Orban - the 'strongest' European leader
And Orban also has the backing of former UKIP leader and Brexit campaigner Nigel Farage, who describes him as a strongman.
"I think Viktor Orban is the strongest leader of any European country at this moment in time. He stands for nation state. He stands for as he sees it, the Judeo-Christian values of his country. He has got the courage to take on Soros. And people like that. Look, if I was Hungarian, I know exactly who I would vote for," said Farage.
Italy's far-right is coming out in support of Orban too, praising government moves in Hungary.
"I think that from several points of view, the Hungarian government has done absolutely what was necessary for the interests of the Hungarian people, contrary to the other European governments," said League leader Matteo Salvini.
Hungary on the map
EU Commissioner Tibor Navracsiscs was Hungary's Justice Minister between 2010 and 2014 - and contributed to some controversial legislation.
"There is a lot of debates between Hungary and the EU and the EU Commission. But in this regard, Hungary is not in an exceptionally difficult or troublesome situation," he told Euronews.
"On the one hand we can see Poland from the Central European region, or Romania, which have lots of debates and which have stormy relationships with the EU institutions but we can mention also Western EU members.
"I can say something for sure: these debates made Hungary a country which can be now easily identified in the region. If its good or bad, everyone should decide according to their minds."