Ireland's pubs open for Good Friday drinks for first time in 90 years
Comments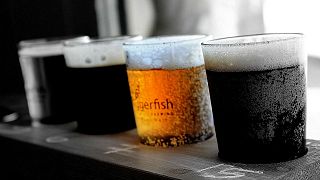 People in Ireland can spend Good Friday drinking alcohol in pubs today for the first time in more than 90 years.
Ireland's parliament voted in favour of amending the Intoxicating Liquor Act in January, lifting a decades-old alcohol prohibition over the Easter holiday.
The law, passed in 1924, made it illegal to "sell or expose for sale any intoxicating liquor" on Good Friday, St. Patrick's Day, or Christmas Day.
The ban on St. Patrick's Day was abolished in 1960, while the Christmas Day prohibition remains in place.
Politicians and trade groups supporting the change for Good Friday have said it will be a boost for Irish tourism over the holiday weekend.
"Tourism makes a much greater contribution to our economy and this is particularly true during holidays, such as the busy Easter period," said David Stanton, minister of state for equality, immigration and integration, in parliament at the time.
Shops were expected to see fewer customers stocking up on booze ahead of the Easter weekend, while a decline in traditional Easter Friday house parties was also predicted.
Publicans' group the Vintners Federation of Ireland (VFI) has estimated that the change in legislation could generate more than €40 million in sales, and millions more in VAT and excise duty.
Pub owners across the Republic celebrated the historic day, sharing details of their Good Friday opening hours and deals under the hashtag #OpenGoodFriday.
But not everyone is happy with the change, which critics say marks a move away from the country's Catholic traditions and undermines government efforts to reduce harm caused by alcohol.